Interventions for Decontamination in Case of Accidental Pollution
Our company has the equipment and trained personnel for fast interventions in cases of accidental pollution caused by damaged oil products transport pipes, by road accidents in the case of oil or chemical products transportation, oil spills from land or water (sea or fluvial) transport vehicles. For the removal of water pollution effects, the interventions consist of recovering the hydrocarbons from the water surface or the soil, using the most adequate technologies, by:
– Using floating barriers to limit the spread of the contamination
– Using absorbent materials and mechanical presses to retrieve the collected hydrocarbons Skimmers configured into diesel-hydraulic powered mobile units equipped with pumps, hoses and containers to store the collected products.
– Special organic materials for a fast remediation of the pollution effects Enzymes and bio-chemical products
– Monitoring the effects of the pollution until their natural mitigation, when required
Green Environment supplies, depending on the beneficiary requirments, neccesary products in case of accidental polution interventions and decontamination, depending on the type of the accident. We provide full intervention services for all cases of accidental pollution, by using the very best spill control & environmental protection products available. With this comes a responsability to help protect the wider environment and future generations technology, in order to maximise performance of the products you use, making your life easier and genuinely safer.
Depending on the client's request we may adapt and customize the spill kit , as size and products, because we may supply a wide range of products.
OIL SPILL KITS
Everything you need in the work environment to control fuel, fuel oils , hydrocarbons and lubricant spills. From 25 litre to 120 liters for quick response to the seat of the oil spill, up to 600 litres bins for site and plant requirements for immediate oil spill response. It contains pads, rolls, socks and pillows, booms, floor sign, hazard tape, bags and ties.
SPILL KIT SPILL KIT DESCRIPTION :
HYDROPHOBIC TECHNOLOGY – ABSORBS ONLY OIL AND NOT WATER THE MOST EFFICIENT KIT FOR HIGH VOLUME SPILLS DESIGNED TO ABSORB AND RETAIN ALL OILS AND FUELS.
TYPES OF INTERVENTIONS:
A spill kit is a collection of items, to be used in case of a spill, leak or other discharge of oil. Spill kits are developed so that  a prompt response and clean-up may be performed.
OIL PADS
Heavyweight overstock for the strongest oil pad on the market
Floats on water for easy retrieval
Hydrophobic technology- Absorbs only oil and not water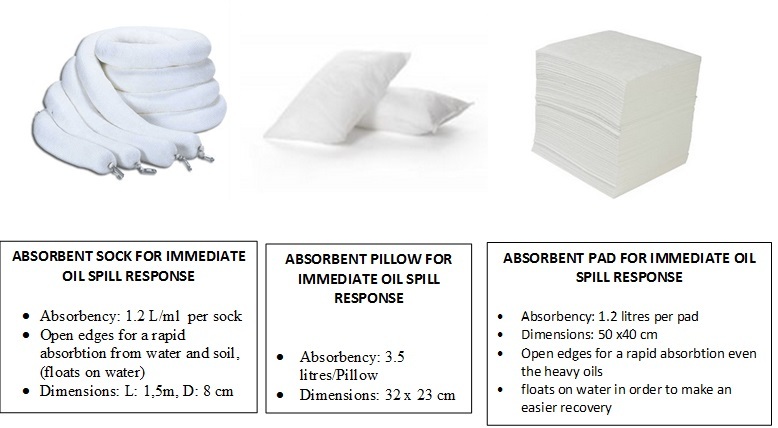 OIL SOCKS
Extra thick outer skin for excellent fluid retention
The engineering shop essential
Absorb more than four litres of oil per sock

OIL PILLOW
Spunbond hydrophobic skin lets in oil only
Flexible so ideal for using where space is limited
High absorbent, virgin polypropylene fill
GRANULES AND ORGANIC FIBRE

Clay granules are ideal for all types of spill. They solidify the spill which can be collected using brush and dust pan. Wood-fibre (UNR Cansorb) will only absorb and solidify oil or fuel based fluid, it does not absorb any water
UNR60
UNR60 is made of attapulgite mineral clay. It has largest size grains among all other granules
Clay does not react with most chemicals, except for acids
Suitable for industrial areas: soil and gravel
UNR 60 granules are used for the absorption of industrial fluids, oil and other liquids based on water
UNR 99
UNR 99 is also made of attapulgite mineral clay, but it has the smallest grain of all granules, making it perfect for reaching tight areas (for example oil spill on tarmac or concrete. Crush resistant.
Highly absorbent porous mineral
Excellent floor coverage, UNR 99 are used on the concrete surfaces
Do you need help or have questions?